Digital marketing has revolutionized the way we communicate, especially in attracting students on social networks.
They offer support for the development of a series of actions that aim to attract, engage and convert students. But they are also strategic when it comes to retaining students.
The truth is that both audiences can be considered in your social media marketing strategy. But to do this, you must know them and understand the dynamics of each network.
What you will see in the post:
Know how to retain students on social networks and how to use these platforms to attract new enrollments!
Using social media in your Marketing strategy
The first step to loyalty students on social networks (or gaining new enrollments) is understanding the role of each platform.
It is not enough to think of just one strategy for all networks, as each of them has its own specificities.
Understand two of them:
Facebook
The largest social network in Brazil has popularity as its main characteristic. It is difficult to find someone who accesses the internet but is not a user of the network. This way, it's easy to find your audience there, whoever they are.
Another feature of Facebook is its ability to give trust to a brand. A brand that has a business page on Facebook interacts with its followers and is more likely to capture students on social media than those that do not invest in this strategy.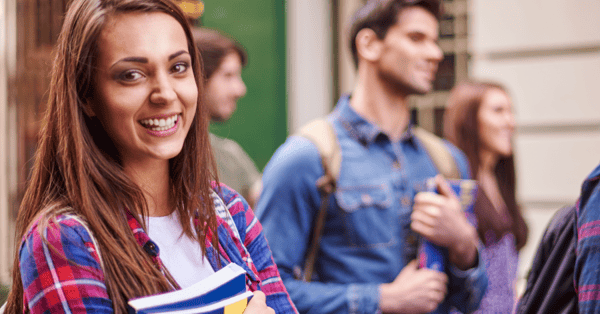 Instagram
Instagram is the social network of engagement. It is more relaxed and visual, allowing greater interaction between brand and public. It is also ideal for displaying the institution's day-to-day activities.
Therefore, find out how to use each of the networks in your fundraising strategy and student retention:
How to capture students on social media
Attracting students on social networks involves winning over customers who may not know anything about your company, so it's important to invest in brand recognition and reputation.
Using Facebook for this purpose can be a good strategy, due to its greater reach and professional aspect provided by a page on the network.
Once you have defined your audience, use the network to generate the necessary authority for your brand and to maintain a relationship. Don't forget this last tip, since without relationships, no company will be successful on social media.
Read too:
How to retain students on social networks
The key to building student loyalty on social media, again, is the relationship. Use social media to listen to students, find out what they are saying about your educational institution and to interact with them.
Fundamental at this moment is the activity of monitoring. It is essential to capture what students think of the institution, the problems they are having, but which the traditional SAC did not address.
If the intention is to interact with the student community, Instagram can be a great option. It allows for much stronger engagement than Facebook.
Of course, in practice, the company is one, so it is not possible to define objectives so coldly. Furthermore, each institution has its own reality, perhaps Instagram engagement is ideal for generating more enrollments at your educational institution.
Therefore, study your people and know how to identify the best paths for your strategy. This way, capturing students on social networks will be much easier!
Understand more about student acquisition and retention. Subscribe to our newsletter and receive similar content directly to your email!