Improving the results of educational marketing campaigns can be an easier task than you might think, if we use data analysis as an ally. The data provides important indicators to improve actions, to optimize the marketing budget and to succeed in your campaigns.
What you will see in the post:
Learn how to put this task into practice with today's post!
What is Data Analysis?
Improving the results of educational marketing campaigns through data analysis means seeking support for decision-making in various sources of information. It is a careful activity that must be done with discretion, since the volume of information available in the online and offline environment is immense.
Data analysis can be done with the objective of understanding the profile of customers and leads of an educational institution, mapping the shopping day of the consumer and verifying the result of marketing campaigns, thus generating insights that can improve these campaigns.
But where to find this data? Your educational institution can find this information in social media content, reports provided by marketing automation software, in forms available on the web and even in the call center.
Just make sure that these data are not analyzed in isolation. The best way to generate a competitive edge for your educational institution is to look at a set of data, identifying patterns and crossing information.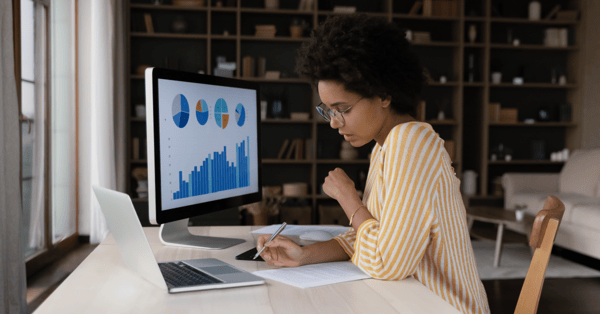 How does data improve results of educational marketing campaigns?
The advantages of using data analysis in marketing campaigns are many! Your decisions will be based on factual information, not guesswork. In addition, you will be able to identify the mistakes and successes of each action.
To take advantage of all this potential of the world of data, follow these steps:
Collect data efficiently
It all starts with gathering information. From now on, everything executed will be measured. Thus, measure every action taken: a campaign on social networks, an email marketing shot, the reading rate on blog posts.
Also, invest in forms and rich materials production that help you collect more leads, starting relationships that can generate an enrollment!
Read too:
Use good tools for data analysis
Data collected, it is time to carry out the analysis to improve results of educational marketing campaigns. You will notice that the volume of information collected is immense and almost impossible to analyze. This is where data analysis tools come into play.
They help you to see patterns and focus on the information that is really useful for you. To do so, invest in software geared towards your industry and tools that bring together different features, such as real-time channel monitoring and a complete control dashboard.
Bet on tools that have an intuitive interface and present information for easy interpretation, through graphics.
An example of software that brings together all these functions is Leadmatch. Focused on attracting students, Leadmatch prevents you from wasting time with unnecessary information, focusing on what is fundamental in the education sector.
Data analysis is an activity that generates a great competitive advantage for educational institutions. Don't waste time and improve the results of educational marketing campaigns!
Don't stop reading here! Learn more about educational marketing and meet the 5 strategic fundraising indicators for Educational Institutions!