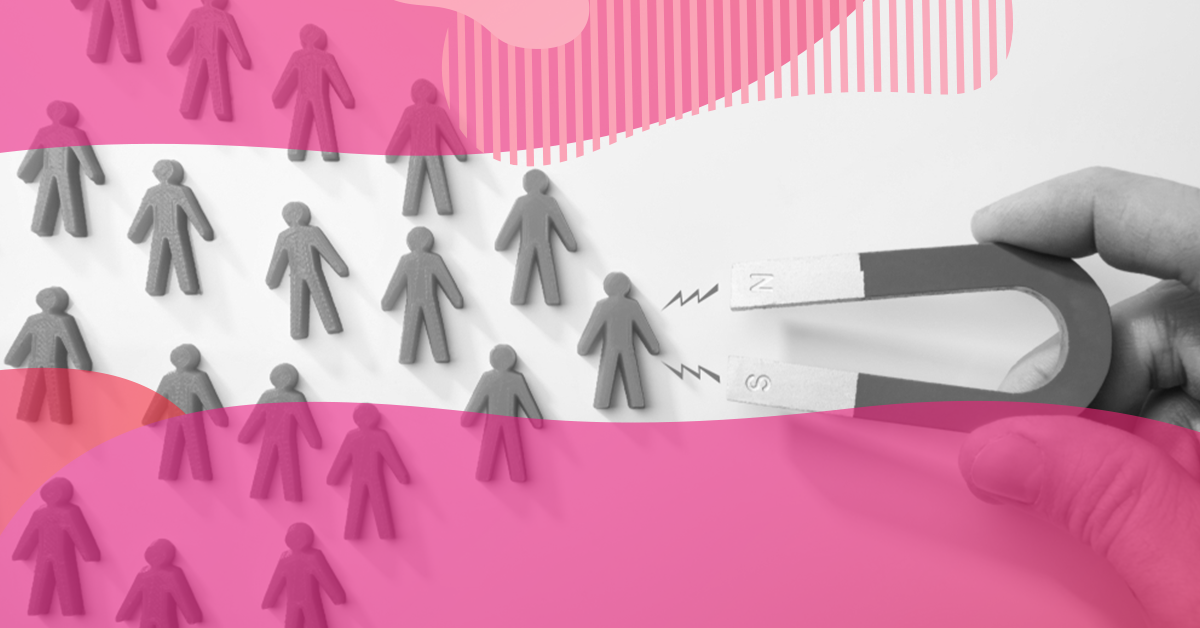 Do you still have any doubts that inbound marketing is a fundamental strategy for attracting your company's customers? So you are in the right place. Today, you will understand, once and for all, the reasons why investing in inbound is essential for any and every business.
What will you see in this post?
The way of communicating changes all the time, and that old cliché that "the way of communicating has changed" is no longer new, nor is it unconvincing. Everyone already knows that! And anyone who works with communication knows that it's like the memes that circulate on the internet say: the communication and marketing professional doesn't have a moment's peace (laughs).
Joking aside, whenever the nuances that give light to these changes emerge, it is up to us, as professionals, to identify them and bring them to the reality of our customers, and it is here, once again, that inbound marketing sinks. its roots even further: in two-way communication between brand and customer.
Inbound is not a strategy that emerged yesterday, and it is not a strategy focused exclusively on sales; in inbound, selling is strategic and part of the process. It is not for nothing that inbound marketing is also known as content marketing, here, content breathes relationship and this relationship helps to optimize budget, reduce the purchase journey and, in addition, it brings you closer to the consumer.
By the way, here's a hook: if you are one of those people who are more resistant to terms and "news", know that inbound is already practiced long before it is inbound! Since marketing 2.0, we can already see the nuances of inbound being used even without the knowledge that it would become part of a larger strategy a few years down the road.
If you still haven't picked up the thread, remember that marketing 2.0 was the 90's phase, when brands stopped thinking only about the 4P's and started to take into account the characteristics and profile of consumers (4 C's), and it was also at that moment that the internet began to appear in the masses and, then, the idea of ​​online research began, timidly, to be part of the consumer's life.
Later, in Marketing 3.0, the focus was already on offering consumers better environments related to products, creating a better product, a more complete ecosystem and already thinking about usability and consumer experience in the purchase journey.
Arriving at marketing 4.0, the concept of inbound was already known, but it was not yet considered as important an arm of marketing as it is today, in any case, at this stage, the internet was already a consistent part of the routine and the purchase journey changed completely. ; we started to customize products, services and solutions, we anticipated the desire and worked with anticipation.
If you are able to follow the reasoning, you already understand that inbound has always existed, but no one had paid enough attention to it, right? That's because, until now, we hadn't even reached the marketing concept 5.0 presented by Kotler in 2021!
In marketing 5.0, inbound has gone from "worth a look" to essential. Brands are looking to reach the emotional sphere of consumers and explore a side that goes beyond consuming. The point here is to engage and make that consumer a brand ambassador. And what's the best way to do that?
Whoever said it right: RELATIONSHIP.
From now on, we will guide you to get to know inbound marketing more deeply and understand how it will help you attract new customers. Come on?
What is Inbound Marketing?
Taking the exact definition of the source (from Hubspot) (and later you will understand why we use HS as a source), we can say that " Inbound Marketing is a set of techniques that involves creating and sharing specific materials for a certain audience that will be impacted according to what they search for on the Internet".
In other words, inbound is a set of communication and marketing strategies focused on attracting the attention of a particular audience.
And doesn't that already exist within the marketing funnel? Yes, but not in the way these techniques are worked in inbound. The funnel is a funnel (swear?), and that means it is an entry and exit that starts at the top and ends when the lead reaches the bottom of the funnel and becomes a customer.like this:
Inbound, we have the famous Flywheel, in which the sales cycle is thought of and structured as a big cycle, that is, it has no end. Friction between marketing/sales actions and the customer must be continuous.
In this scenario, it is necessary to nurture and keep the customer satisfied at all times and at any stage of the journey. Attracting, engaging and enchanting are the forces that keep this circle in constant rotation. For this, it is necessary to have great organization and synergy between the teams.
Anyone who thinks that these two strategies must go separately is wrong. Quite the opposite! The funnel and the flywheel must go together and in harmony so that you can get better results and more easily identify the stages of your customer's journey.
How did Inbound Marketing come about?
Remember that when we brought up the concept taken from Hubspot up there, we talked about fonts? So, although inbound strategies have been explored for a long time (as we explained at the beginning of the post), the term Inbound Marketing started to be used in 2006, when Brian Halligan and Dharmesh Shah founded HubSpot (Software for Marketing Automation, CRM and sales).
But popularization began to occur even in 2009, when Hubspot's founders themselves released the book Inbound Marketing: Get Found Using Google.
Obviously, since then, this concept has improved, and so has the way it is used in companies! This is because, as we have already mentioned, the way of communicating changes all the time, so it is normal that communication strategies also change.
A few years ago, advertisements were made by radio, then by television, newspapers and magazines. Today, in less than a second, you talk to your audience on Twitter, Facebook (he's not dead yet), Instagram, TikTok, etc.
Returning to the history of inbound, Brian Halligan's achievement was to put into a concept the surgical observation of how the sales process was already changing at that time. Email lists, advertisements targeting very different and non targeted audiences and more and more money being poured into the untargeted masses. In his eyes, these practices were not reaching the right audience.
Well, he was right! The inbound marketing strategy with quality content, aimed at the right audience, made many companies go through the 2007 and 2008 crisis growing in revenue. And not only in 2007/08, but the pandemic that took place in 2020/21 also showed how consumers no longer have a "bag" for brands that just want to sell.
The consumer understood that he has the power of argument and voice, and that this voice in union with the tribes has a great impact on the useful life of brands.
Read too:
Inbound Marketing vs Outbound, what's the difference?
Outbound marketing has been around for as long as advertising has been around! And yes, it worked for a long time and, depending on the company's strategy these days, it still works, but alone, it tends to generate more expenses than converting visitors into leads. For you to better understand the difference between Inbound and Outbound, here's a comparison:
How will Inbound help you attract customers?
If you've been able to follow our reasoning so far, you've certainly already understood that Inbound goes far beyond selling. The purpose of Inbound is to generate relationships, create a real bond and be part of the consumer's life.
This type of bond is that thing that makes the consumer feel part of something, that creates memories and leads that consumer to be an advocate for your brand.
This does not mean that it should be the end of Outbound, but that Inbound should be part of your routine as a brand and as a company.
When you produce niche content and spread that content on the right platforms, where your customer really is, the chance of you reaching a potential buyer (drastically shortening the purchase journey) is much higher than in guerrilla marketing.
According to Hubspot, getting leads through inbound is 42% cheaper than outbound. I mean, it's worth it, right?
Attracting customers, to put it very simply, is a strategic job of attraction. And that regardless of whether you use inbound or outbound strategies, the sales process is directly related to the techniques you use to make your brand or product attract more attention than the competition = attraction. Right?
Keep this in your head: sell = attract.
That said, it was easy to understand how to use inbound marketing in your acquisition strategy and even how it can help you define strategies on how to improve customer service.
The main inbound strategy is to make your lead interested in what you have to offer, for that, strategies focused on relevant and connective content are used.
This process of working on more niche and complex content makes the attractiveness more targeted. Want an example?
Let's look at the audience of mothers and fathers of newborn babies. One of the needs of this couple is to buy diapers, right? If you have a diaper brand, you will probably invest in TV commercials, magazines, some guerrilla actions, social media, etc.
Thinking strategically, do mass media such as television, magazines and guerrilla actions reach your audience? Yup. But do you agree that this type of action reaches a much larger number of people than those parents who are, in fact, looking for diapers? You will likely impact children, teenagers, childless men and women, including those who don't even want to have children.
Conclusion: you will invest a high value in this type of media to count on the "lucky" parents with newborn babies to see your action and connect with it (because it's not enough to see, you have to connect).
For big brands with big budgets to make available for advertising, it might be okay to invest that amount, but if you need to choose more specific actions, that matters!
Now, how about choosing a digital influencer who talks on social media exactly about maternity/paternity? This person who only talks about this topic already has a niche audience: people who are interested in maternity/paternity topics.
This influencer has already done his job of selecting the audience, he already talks to this audience. In this case, just insert your brand into his routine. Ah, speaking of measurement, currently, you can create specific campaign links for this influencer and ask that this link be used by him, so you can measure, in a more assertive way, the number of people who became customers through that person.
This is how inbound works: connecting.
As you can see in the image of the flywheel above, inbound you work all the steps constantly: attract, sell and retain the customer. Each step of the sales process is related, and this constant friction is what will make your customer closer and closer to you.
In fact, to better understand these capture strategies in the moment we live in, it is worth checking out this post here on our blog: Marketing 5.0, get closer to your potential customers.