With the advantages and new tools of digital marketing, it is common to wonder about the effectiveness of more traditional sales instruments in the education market, such as the use of telemarketing to attract students. Do they still work? Do you have space? Are they efficient?
Although the tendency is to invest in cheaper sales alternatives, active marketing in education can indeed be used. After all, what determines the success of a strategy is its planning for a given objective, not exclusively its execution.
In this post, you will see why telemarketing in attracting students can indeed be part of your strategy. Check out!
Good reading!
What are the advantages of using active marketing in education?
Closer contact with consumers, diversification of direct sales channels and quick evaluation are the advantages of using telemarketing to attract students. Understand:
Closer contact with potential students
As much as we try to personalize communication in other ways, such as e-mail marketing, for example, it is in telemarketing that one of the closest interactions between company and student takes place. Conducting a pleasant and listening conversation can indeed help to sell more.
Read too:
Sales channel diversification
It is important to diversify the channels of action and not bet on just one front, in order to verify the impact on attracting students and measuring the most effective ways to gain more enrollments.
In addition, telemarketing helps other sales channels, leads to the conversion of a well-qualified lead more quickly and thus helps your educational institution achieve its goals more effectively.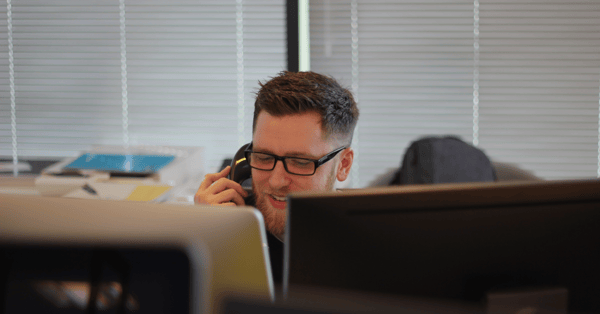 Quick check of results
Yes, it is possible to measure data in a call center. And the best: it is possible to evaluate the result of the strategy as it is executed.
This is done through technologies such as Leadmatch, a software that measures data from educational campaigns in real time.
Media with the best performance, regions of the city that bring the best response to your educational marketing actions, most frequently asked questions from students and other behavioral data are measured and evaluated so that you can optimize your communication actions and thereby attract more students to your institution's education.
When to use telemarketing to attract students?
Despite still being quite effective, the use of active marketing in education, especially with a focus on telemarketing, should be done as part of a larger strategy for attracting students.
Telemarketing is not a channel to start a relationship. It is important that the lead has already contacted your educational institution previously and has been developing an approach through other channels, such as your institutional website or social networks, for example. Having these well qualified leads, we start the direct sales process.
As you've seen, diversifying sales channels is an effective way to increase your reach and, as a result, increase enrollments. Each channel must have a well-defined role in the strategy, with action plans, sales script, documentation and analysis of results. With this, it will be possible to use telemarketing to successfully attract students!
Want to attract more students? Check out our 3 educational marketing strategies for colleges and boost your capture! Read it now!