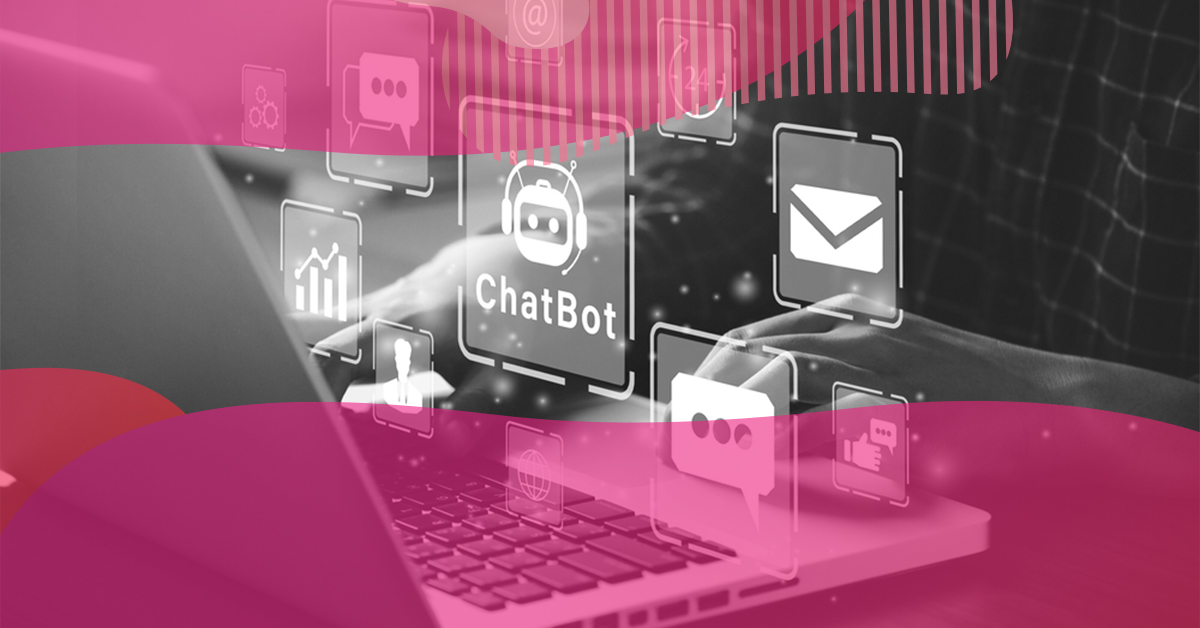 When we talk about robots providing care and having conversations with human beings, we can soon imagine a futuristic scenario, full of humanoid machines. But we can assure you that, in real life, this already happens and it is very different from what you imagine. We are talking about a chatbot service, something futuristic, but very present in our days.
Far from the applications seen in movies, for digital marketing, bots are used with a certain frequency, aligned with strategies aimed at problem solving, nurturing and converting leads, in which, when contacting, the customer can answer questions of an answering machine with predefined directions. All this in the official whatsapp app, on social networks or service via the website.
To understand more about the relationship between these two themes and their applicability, in addition to knowing how to create an optimized chatbot step by step, check out our post right now!
Customer service: the future is now
When we send messages via Whatsapp and we are offered pre-human service, we talk to a robot. Years ago, it was by telephone that this contact took place, also with a non-human object capable of performing calls.
Today and a few years ago, human beings have been looking for ways to optimize their time and transfer the responsibility of dealing with bureaucracy to machines. And it's succeeding!
Now, digital marketing is increasingly introducing different types of tools capable of improving results and achieving superior performance. One of the main examples is the development of bots capable of interacting with human beings, solving doubts, performing processes and developing many other important functions for our routine.
This type of service is usually carried out on websites, but its expansion to several other places, such as social networks and messaging applications, is growing and notable. But is this service sufficient for the existing demands? Find out in the next topic!
Chatbots for customer service: is it worth it?
With the implementation of efficient chatbots, companies and customers win. This happens because, in this two-way street, the customer is satisfied with his problem solved and the company is able to delegate more punctual functions to the employees who would be dealing with a large demand for services.
Among the many benefits that we can mention, here are some that stand out:
Availability 24 hours a day;
Optimization of the team's time as a whole;
Collection and organization of collected data;
Reduction of service costs;
Possibility of working on different platforms.
How does artificial intelligence optimize bots?
In addition to the technology used in chatbot systems, it is still possible to enhance services through the implementation of Artificial Intelligence.
This upgrade is carried out, especially, with the aim of improving the user experience, providing interactions closer to human relationships, mainly through Natural Language Processing (NLP).
In addition, several improvements can be made so that the bot meets in a more in-depth way, understanding user patterns to solve problems and make the service more and more positive.
4 most used types of bots
In the midst of so many models and applicability of this system, four of them stand out among the others, as they are the most common and are increasingly inserted in our daily lives.
To understand the function of each of them and their goals for companies, check out, below, four types of chatbots developed to perform calls!
1. WhatsApp chatbot
On the rise for companies with commercial accounts, chatbots developed for Whatsapp are designed for quick, first-contact calls, before directing the user to an attendant.
However, it is possible to find e-commerce companies using this tool to deliver updates on transport, product exchange and even to send promotions.
Personified or not, bots tend to be increasingly aligned with the types of dialogue developed between humans. This has been so constant that, sometimes, some people do not even notice that it is a service with a complex system like this.
Read too:
2. Facebook Chatbot
Similar to the version for Whatsapp, chatbots for Facebook Messenger also aim to optimize contact with customers. In a guided way, it is possible to take the user through different paths to the desired solution, and all this without leaving the social network.
Whether on the facebook page or whatsapp business api, social networking services are increasingly open to this type of facilitator.
3. Website chatbot
Being one of the most popular types of bot, these systems are already being implemented on websites. You can usually notice them in the lower right corner, sometimes represented by human photos, drawings or even the representation of robots.
These site-associated templates are programmed for different tasks, from answering simple questions to providing the user with predefined site content when creating the conversation flow.
4. virtual assistant chatbot
"Alexa, what's the temperature for today?" "Siri, who won the 1970 cup?"
For many, these two names are already part of their routine, whether on their cell phones, on TV, or on their own devices. Even serving specific companies, this is still an AI system with a chatbot for service. With this technology, it is possible to go further in the interaction, reaching voice dialogues.
Use this technology to your advantage
If you haven't started investing in this type of technology yet, now is the time! For those who want to stand out in the middle, qualified and agile service is essential to strengthen the relationship between company and customer.
So, study the different possibilities to understand which best suits your needs and invest in this type of technology that can improve your results. For this, the first step is to understand where your target audience is and understand where the greatest flow of service is, and then start working there.
From this information, it is possible to search for a bot that is capable of supplying this demand.
Don't be left behind, be part of the future with chatbots!
Did you just see the countless possibilities and improvements that this type of implementation can bring to a company? There is no longer any way to escape digital marketing as a strong ally for capturing and increasing conversions. And for that, you can also count on the technology developed and applied for bots.
Falling behind in terms of digital technology is not an option for those who want to stand out in the market. For this, it is with these intelligent systems that you can count on offering increasingly qualified services.
Did you like the content? Then you will also like our post chatbot AI your capture and retention. Check it out, right now, and delve into the subject!
Do you still have doubts or insecurities? Leave your concerns about the topic in the comments and our experts will clarify whatever it takes!