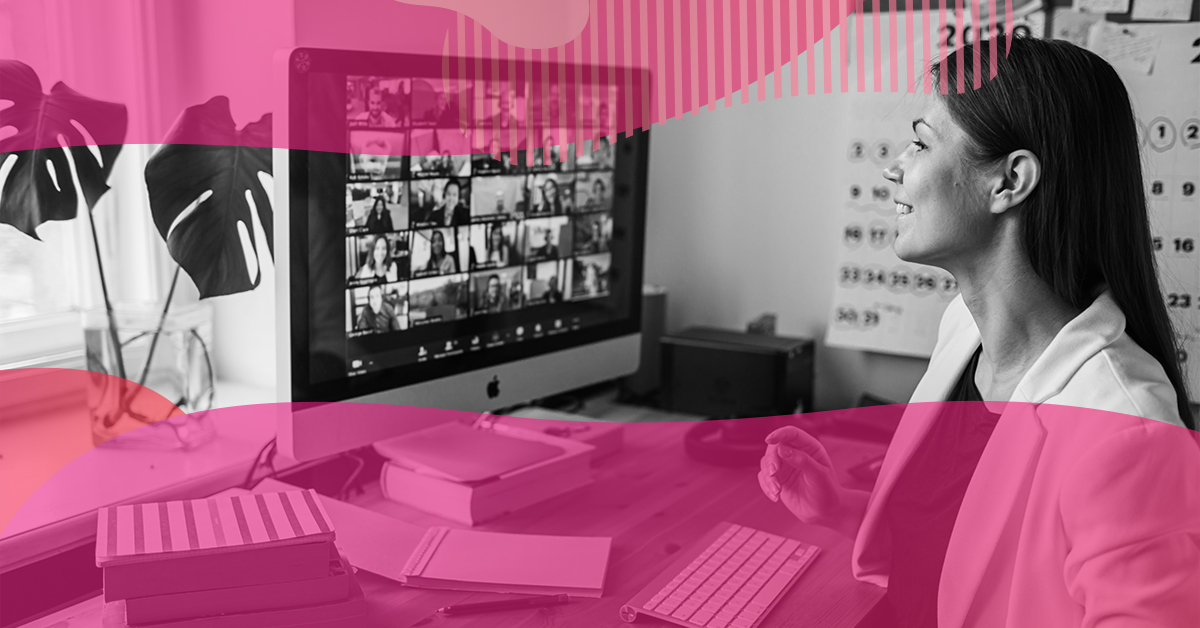 With the intensification of the Coronavirus (COVID-19) pandemic, the home office is no longer an alternative and has become the solution for several companies and Educational Institutions (EI) to keep working.
If your employees, and you, are also working from home, you will inevitably need to have an online meeting. When that happens, how should it be done and what needs to be considered?
To help you answer these questions and create an excellent meeting for this work model, we've separated 12 tips. Check out!
1. Keep in touch with your team by chat
More important than starting a good meeting is keeping in constant contact with your team. Choose an online chat tool and always be available to chat with your team.
Questions may arise and answering them is the first step to ensuring that nothing goes wrong during this period.
A great tool for this job is Slack. It leaves communication centralized, it is possible to create groups for each topic that you are working on, it allows you to make integrations and has numerous plugins (gifs in chat, integration with Trello, files from Google Drive and Dropbox, Soundcloud audios, among many other functions).
Slack also has a very interesting integration to facilitate meetings you can have with your team: conference in Hangouts. Just type /hangouts in the chat and the video conference starts.
2. Have a shared and well-organized schedule
When working remotely, you need to have one idea in mind: organization. The more transparent and organized the routine of your EI and your collaborators is, the better your virtual meetings will be.
Thus, having a virtual agenda shared with all people is fundamental. Employees need access to schedules to plan to be present on scheduled days and times.
3. Avoid rescheduling or changing the time of online meetings
As distance is, whether you like it or not, a hindrance to the exchange of information, meetings must strictly follow the time they were planned to take place. Postponing, anticipating or canceling an online date can be a problem.
Despite this, we know that unforeseen events happen and that at one time or another it will be necessary to change the agenda. Therefore, we suggest that you use Google's calendar to make appointments, as when someone changes the time, the person can send an email notifying everyone involved of this change.
Even with this feature, it is important to be careful to always reschedule as far in advance as possible. Did you just find out that the meeting needs to be postponed or anticipated? Then go to the calendar and make the change. The sooner the change is made, the fewer problems there will be.
4. Choose a good platform to make your meeting room
Today, there are excellent video conferencing services that can be used by your company. Some alternatives are
5. Create an agenda and leave it attached at meeting time, along with connection information
In addition to leaving the meeting scheduled, also define the topics that will be discussed at the meeting and leave them listed in the agenda. This allows your collaborators to prepare for the discussion and reduces the clutter of having to "search" for some information that should already be there.
Another positive point of the agendas is that you can stick to the subject of the meeting, preventing other subjects from interfering with the progress of the discussion. And as everyone is aware of which agenda is being debated, this control becomes easier.
In addition to that, also leave a tutorial on how people should connect in the meeting. Will it be through a link? What time does the person need to click, how does he enter the meeting room, how does he enable his own microphone? Make it all clear.
To complete, leave a list of the meeting participants and avoid inviting people who are not part of the topic discussed — the fewer people, the more organized the meeting will be.
Read too:
6. Make your "home office" a quiet place
Be careful where you will have your meeting. Look for a quiet place, preferably without external noise. In addition to children at home or pets, see if any neighbors are playing loud music, doing some construction job, or any other sounds that could be picked up by your microphone.
Keep in mind that you are the example that will be followed, from now on, when it comes to remote work for your team.
7. Arrive at the meeting room five minutes early and greet people
Punctuality is also crucial. It's easy for people to get scattered when they're in a virtual room and have nothing to do. Therefore, arrive five minutes early and start receiving each employee.
8. Introduce everyone in the room and avoid waste time
Before starting the actual meeting, introduce everyone in the room if they don't know each other. This avoids that introduction that each one would make of himself (which ends up consuming a lot of time).
9. Lead the meeting and act as a mediator
Have you finished presenting what you needed and it's time to listen to your team? Don't be silent! Act as a mediator, get the word out to people and guide the meeting to avoid problems.
In virtual conversations, there is a scenario that happens quite often: everyone is silent, giving up their turn to talk to their colleagues. After a few seconds of silence, everyone speaks at the same time, and it is impossible to understand anything. And this cycle keeps repeating.
As a mediator, you can avoid this situation.
10. Focus on real-time conversation and use video calling if possible
The most important thing about remote meetings is the real-time conversation. However, if the number of participants in the room is not very large, it is possible to do the meeting by videoconference.
This strategy is interesting because people are more attentive and less distracted when they know someone is looking at them.
11. Have a containment action prepared
If during the meeting someone's internet goes down (which will be common, as internet providers are overloaded with the number of accesses due to COVID-19), what happens?
You need to have a contingency plan. One strategy that can be used is the phone call. In addition to keeping your team in the online conversation, put the employee who was disconnected to listen to the meeting in a phone call and repeat the things he says to the others in the meeting.
12. Use the screen sharing feature to facilitate information exchange
During virtual meetings, you may want to explain some graphics or show some information. Instead of sending this data by email and asking people to open it during the meeting (and keep talking, look at the value X in the upper left corner, for example), use screen sharing.
Show people your computer screen and use a note-taking program, like Epic Pen, to make notes and notes.
In addition to all these measures, it is also interesting that you ask your team for feedback and see if they have any suggestions to improve the progress of the meetings. As this is a new format for many people, adjustments need to be made.
Subscribe to our newsletter to receive our content at first hand.